headTrix, Inc. | Adobe Certified Training & Consulting

headTrix is a computer training & consulting company. We offer hands-on, instructor-led computer based training classes & consulting in Desktop Publishing, Graphic design, Interactive Media, eLearning, Video Editing, Video Effects, Photo Editing & Effects, Motion Graphics, Animation, Character Animation, Social Media, Search Engine Optimization & more!

Our Trainers are working new media professionals, designers, programmers, animators, editors, and consultants, that are
Adobe Certified Instructors (ACI) and CompTIA Certified Technical Trainers (CTT+).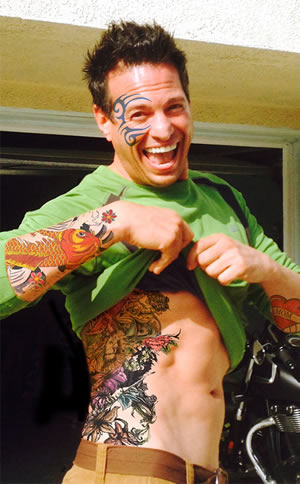 headTrix, Inc.

Mark Itskowitch, B.A., M.A., ACI, ACP, ACL
Mark is an Adobe Certified Instructor (ACI), Adobe Community Professional (ACP)
, and an
Adobe Campus Leader (ACL)
. Mark has been involved in graphic design and new media for over 20 years. He has worked for McGraw-Hill New Media, Jostens Learning, Sony Online, Marconi North America, and the NBC Agency,
and is founder and principal of headTrix Training & Consulting
.
Mark was a speaker at the Adobe Learning Summit 2017/2018, and a Teaching Assistant at Adobe Max '17,'18, '19' for Photoshop, Lightroom, Animate, Character Animator, Premiere, Rush, and After Effects, and a speaker at Adobe Tech Wednesdays. He holds numerous certificates and awards in the field, and has taught for the University of California, San Diego (UCSD), Platt College, The San Diego New Media Center, The Art Institute, and corporate training for Sony, Fox, Warner Bros., Universal, Disney, EA, BBDO, Razorfish, NFL Digital, U.S. Army, & more! (Client List).
headTrix began as an idea from a friend to sell the sculptures, mainly heads and masks, that Mark created as a hobby. Nicknamed "Trix" in college, and creating heads, the name "headTrix" evolved. It was just an idea ... but while completing a certificate in Web Publishing at UCSD, Mark had to create a website, so he decided to create a website of his sculptures, calling it "headTrix". He started adding more of his art and work and headTrix became a portolfio website in 1999, (view the beginning). In 2000 his school project turned into headTrix: An Interactive Multimedia Agency, creating multimedia projects, rich media banners and interactive games.
In 2007 headTrix Training evolved, and a year after "headTrix" and "headTrix Training" merged together to form headTrix, Inc. | Adobe Certified Training & Consulting. The rest is history, and a bit of a mystery! Stay tuned!
Mark has worked in graphic design, multimedia, eLearning, social media marketing, animation, video, and the web over 20 years, working with McGraw-Hill New Media, Sony Online, NBC Agency, and founder of headTrix, Inc. He has consulted, trained, and created project work for Adobe, Disney, Universal, Warner Bros., Fox Studios, DDB Advertising, UCSD, and the NFL.
Mark is also a Certified Dreamweaver Developer, Certified Animate Designer, a Certified Photoshop Expert, and A Certified Technical Trainer under the CompTIA ( CompTIA CTT+™ Certification), he teaches Photoshop, Animate, Character Animator, Captivate, Muse, Lightroom, Premiere, Rush, Dreamweaver, HTML, SEO, and other multimedia, web-related and design topics.
---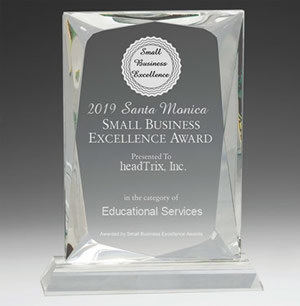 Santa Monica Small Business Award
Presented to headTrix, Inc.
"headTrix, Inc. has been recognized as the leading small business in the Educational Services category that serves Santa Monica.
Each year we select small businesses that have achieved great success in the Santa Monica area. Your business is among those that lead small businesses in the area with fantastic service to their customers and community."


Exceptional Training. Noticeable Results. Great Value.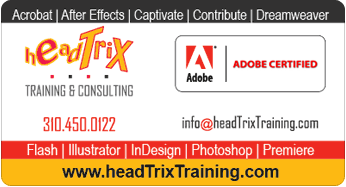 _____________________________________________________________________________________ Top^